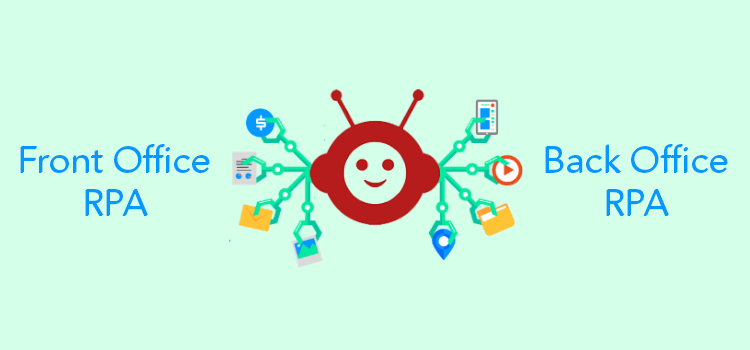 Front Office RPA
Front office Robotic Process Automation (RPA) or attended bots deal with customer-facing repetitive jobs that can't be automated end-to-end. Front office automation aims to imitate human interaction. Chatbots in front office activities can automate less complex transactions as well as optimize the turnaround time for processes that are more complex.
It gives the customers an opportunity to get quick bills, self support and AI suggested products. Front office RPA solutions can offer a 360-degree customer view and empower your customer relationship team. Implementation of Front office RPA can result in faster customer support, increase in customer satisfaction, reduction in on-call support & operational costs, and increase in cross-sell & up-sell opportunities.
Back Office RPA
Back office RPA or unattended bots automate processes, such as loan processing, insurance claims processing, credit card application, and various other functions that stand behind the scenes. Back office automation with RPA is a key factor to enhance efficiency while ensuring your team is able to work on more complex and important tasks, thus eliminating redundancy at every stage.
Back office RPAs are most suited for processes, which have high-volume and low complexity, deal with structured data, and involve a limited number of exceptional circumstances. Data entry, reporting processes, maintaining inventory, and maintaining paperwork are such processes that can be highly efficient with RPA back office automation.
When combined together
Front office RPA when combined with back office automation like collating information from customer conversations, can contribute to the success of front office processes.
Advantages of Back office or Unattended RPA Bots
Back office RPA bots work without or very little human intervention.
Back office automation is self-triggered by other software applications.
Unattended RPA bots work 24×7, 365 days in a batch-mode model.
It can be accessed remotely through several interfaces or platforms.
Back Office RPA Bots reduce data inconsistencies by always processing tasks using the programmed method.
Unattended Bots can optimize and streamline back office processes for increased productivity and performance.
Organizations can reduce wage costs by automating repetitive back office process tasks.
Back office RPA Bots reduce compliance issues by providing detailed audit trail and management of sensitive data.
Unattended automation provides comprehensive and data from multiple sources into one for insightful and actionable analytics.
Gives greater scope for collaboration and communication since the administrators can modify functions in real-time and have full access to analyze, deploy, report, monitor, and audit the bots in a centralized hub.
Advantages of Front office or Attended RPA Bots
Front office RPA bots require users' or administrators' intervention
Front office RPA Bots increase employee productivity by automating repetitive and time consuming tasks commonly performed by team members manually.
Front office RPA Bots allow customer support teams to provide a faster and more accurate service.
Attended automation can improve customer communication by automating messaging to customers and reminding employees for a follow-up.
Front office RPA Bots can dramatically reduce substantial human errors and increase accuracy. Once the bots are programmed and mapped, they can execute actions in a productive and efficient manner without the human error factor.
Attended automation Bots can quickly perform database queries making a high volume incoming inquiry transactions much faster resulting in increased customer satisfaction.
Attended automation is agile and needs to be user-friendly since the staff needs to juggle multiple interfaces or screens.
Attended automation is more than often housed in a workstation, thereby limiting the employee engaging with it in a specific workflow.
Front office RPA Bots improves customer experience by providing personalized and intelligent experience.
In conclusion, employees and RPA Bots working together in the front and back offices of organisations is the way of the future. Organizations can gain from the productivity and efficiency of automation as well as the human aspect of a live and personalized interaction.
rpa bots
front-office
back-office